MICRONEEDLING ROLLER AND INJECTOR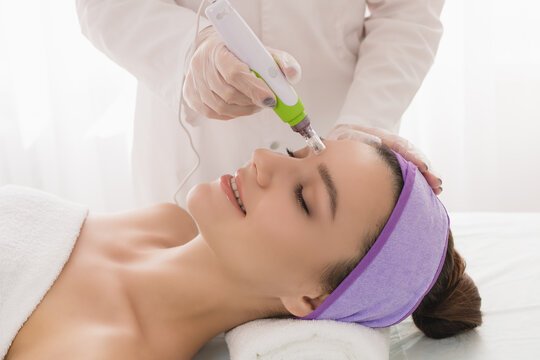 WHAT IS MICRONEEDLING?
Do you have wrinkles? Acne scars? Pigmentation? Microneedling is your answer! Our microneedling treatments can help rejuvenate your skin and get rid of these problems. Microneedling is a collagen-stimulating treatment great for general skin rejuvenation. It treats textural issues dealing with pores, acne scars, wrinkles and pigmentation and has seen extensive positive clinical results, making this treatment a great alternative to laser skin resurfacing.
WHAT ARE THE ADVANTAGES OF MICRONEEDLING TREATMENTS?
Microneedling can be done at a fraction of the cost when compared to surgical treatments. Microneedling creates micro injuries which stimulate the body's natural wound healing processes, resulting in cell turnover and increased collagen and elastin production, therefore reversing as well as preventing signs of ageing.
IS MICRONEEDLING EFFECTIVE FOR ACNE SCARS?
Microneedling is extremely effective for Acne Scars.
A 2017 study of microneedling's effect on atrophic acne scars revealed that patients experienced noticeable clinical improvement in the look of their post-acne scarring after three months of microneedling treatments. (Source3)
Gliding tiny micro needles over the skin breaks down collagen bundles in the top layer of the dermis, which are responsible for those uneven scars.
A retinol-based serum in this instance would provide additional exfoliating power to smoothen the acne scars.
About 4 to 6 sessions with a gap of 2 to 4 weeks per session are required for the most effective acne scar removal.
IS MICRONEEDLING EFFECTIVE FOR PIGMENTATION?
Hyperpigmentation occurs due to uneven production of melanin throughout the layer of skin.
This irregularity in the generation of melanin can be caused by acne, cuts, sunburn, etc.
These dark spots are very stubborn and become more pronounced with time instead of fading away naturally.
The reason behind this is that the skin stops producing new cells as a person ages.
Microneedling injects tiny needles (up to 36 at a time) into the skin to create micro channels.
The old layer of skin is replaced by new collagen or skin which is free of any spots or marks.
About 4 to 6 sessions with a gap of 2 to 4 weeks per session are required for the most effective pigmentation removal.
IS MICRONEEDLING EFFECTIVE FOR WRINKLES AND FINE LINES?
One of the most popular benefits of microneedling is its ability to restore your skin's youth.
The hundreds of tiny holes created during the procedure stimulate the release of growth factors, which lead to collagen and elastin production.
Your skin will become softer and more supple as well as smoother, giving you a healthy glow.
The process might sound complex, but the results are simple and beautiful. You'll have fewer wrinkles, fewer fine lines and tighter skin.
You'll look younger, fresher and brighter.