Hair loss and thinning hair are common problems across all genders. About 50 million men and 30 million women have lost at least some hair. It's especially common after reaching age 50 or as a result of stress.
And there are seemingly hundreds of different hair loss treatments with varying levels of reliability and success. But some are based on much more solid science than others.
One of these treatments is platelet-rich plasma (PRP). PRP is a substance drawn from your blood and injected into your scalp that can purportedly help heal bodily tissues, including follicles from which your hairs grow.
TO UNDERSTAND HOW PRP WORKS, IT IS IMPORTANT TO BE AWARE OF THE ROLE THAT PLATELETS PLAY IN HEALING.
Platelets are a component of blood, along with red and white blood cells. When a person sustains a cut or wound, the platelets are some of the body's "first responders" that arrive to stop the bleeding and promote healing.
Researchers theorized that if they could extract concentrated platelets and inject them into damaged areas of the body, they could accelerate healing.
PRP contains a range of growth factors and proteins that speed tissue repair. As some types of hair loss result from damage to hair follicles, researchers initially hypothesized that PRP could help regrow hair by reversing the process that occurs in androgenetic alopecia.
Since then, PRP has become a popular method of restoring hair growth. Doctors have also used PRP to treat injuries to the tendons, muscles, and ligaments, such as those that people sustain during sporting activities.
PRP therapy is a three-step process. Most PRP therapy requires three treatments 4–6 weeks apart.
Maintenance treatments are required every 4–6 months.
Your blood is drawn — typically from your arm — and put into a centrifuge (a machine that spins rapidly to separate fluids of different densities).
After about 10 minutes in the centrifuge, your blood will have separated into in three layers:
platelet-poor plasma
platelet-rich plasma
red blood cells
The platelet-rich plasma is drawn up into a syringe and then injected into areas of the scalp that need increased hair growth.

There hasn't been enough research to prove whether PRP is effective. It's also unclear for whom — and under what circumstances — it's most effective.

According to a recent studyTrusted Source, "Although PRP has sufficient theoretical scientific basis to support its use in hair restoration, hair restoration using PRP is still at its infancy. Clinical evidence is still weak."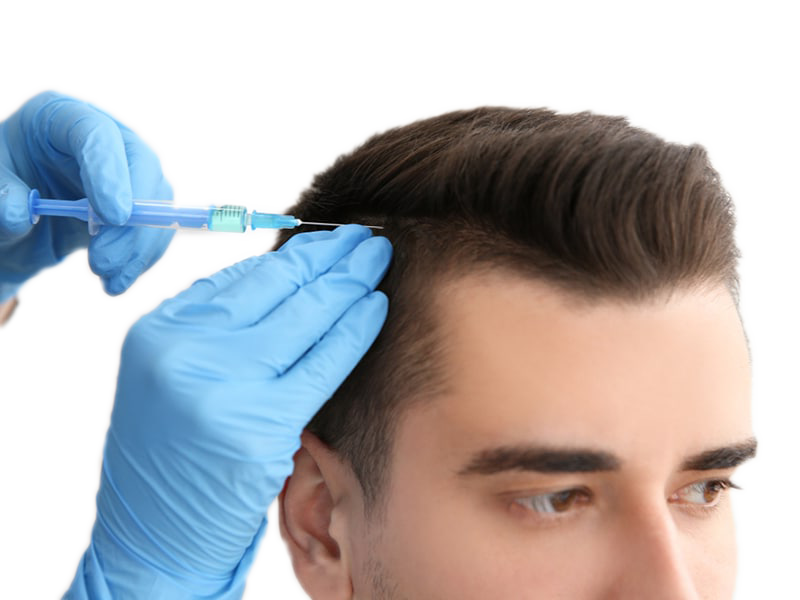 POTENTIAL PRP HAIR TREATMENT SIDE EFFECTS
PRP has some possible side effects from injections and from the procedure itself, including: