SUBCISION WITH NOKOR NEEDLE
Subcision is a treatment for acne scars in which the doctor uses a tiny needle to free up firm scar tissues that are pulling down your scar. Visible results of this procedure can be seen in 1 session. For best results, several sessions may be required. A combination of lasers and collagen stimulating fillers would also enhance the improvements.
Collagen production is then triggered in areas where fibrotic strands are released. This allows the area to heal, which also leads to the improvement of the scar.
The decision to perform a subcision treatment depends on the scar's type, severity, and location. Subcision is usually used for treating depressed scars, bound down scars, cellulite dimples, wrinkles, and depressed skin grafts.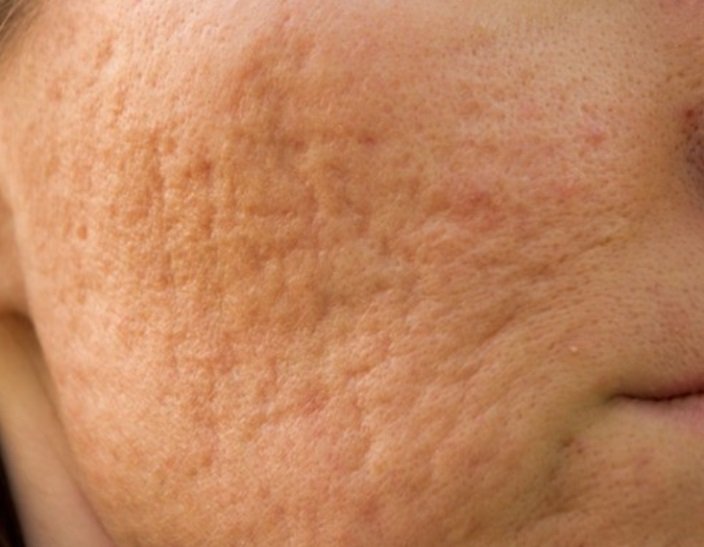 HOW DOES SUBCISION TREAT ACNE SCARS?
Deep acne scars are released and lifted up using a special needle. This special needle is used to manually break down scar tissue that are anchoring down your skin. Subcision acne scars treatment is performed in clinic and does not require hospitalization. The subcision acne scar procedure is more than just the mechanical release of the strands of fibrous scar tissue.
In fact, multiple healing processes bring about acne scar improvement. The mechanical action of the needle and release of the scar tissue creates a pocket of blood beneath the skin. Blood vessels which are disrupted during the treatment allows blood to accumulate into the treated area. This blood clot prevents short-term reattachment of your scars and contains growth factors for healing. This creates an environment for collagen regeneration and improvement of your scar appearance over time.
WHY IS SUBCISION MY FAVORITE ACNE SCAR TREATMENT?
No risk of Post-inflammatory Hyper-Pigmentation (Not a Laser)
Visible Results Instantly (versus weeks to months for Lasers)
Versatile – Treats almost all scar types
HOW DO I KNOW THAT THIS IS THE PROCEDURE FOR ME?
The most important step to treat acne scars is to identify your scar type. 
Rolling scars as well as bound-down and tethered scars need subcision treatment. If you see a depression/ dent when you smile or talk, this means that your scars are attached to the underlying structures such as the muscle layer and SMAS. Lasers cannot penetrate to the depth of muscle layers – not even with deep microneedling devices. Hence, you will need more than lasers to remove these stubborn scars.
You need subcision to release those tethered scars.
WHAT TYPE OF SCARS ARE SUITABLE FOR SUBCISION?
Subcision is an excellent treatment option for the following types of scars:
Rolling acne scars
Chickenpox scars
Stretchable scars from injury or surgery
You cannot have this treatment if you have:
Active skin infection,
Prone to abnormal skin scarring such as hypertrophic and keloid scars,
Blood thinners or bleeding disorder as this increases the risk of bleeding during subcision.
HOW IS SUBCISION ACNE SCARS PROCEDURE PERFORMED?
Your skin is cleansed and your scars are mapped out using a surgical pen. Local anaesthesia is injected to numb your skin.
Subcision is done using a Nokor needle. It is a tribevelled needle designed specifically for subcision.
Once the procedure is complete, pressure is applied to reduce bleeding and swelling. A topical antibiotic ointment is applied to prevent infection and encourage scar healing.